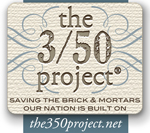 Starbucks sells coffee. Recently, they announced that they would be selling less coffee by 900 locations. Meanwhile, they are running full page newspaper ads begging us to please buy coffee. Bad economy? Let me put on my small business hat and tell you why Starbucks has been bad for America, and why they deserve what they get with extra foam on top.
What does this have to do with the Golden Apple, you might wonder. We started our business 30 years ago this month. The CEO of Starbucks was still scrubbing out percolators at Peets when we signed our first lease. Over the years we have moved several times, and signed many leases. About fifteen years ago, things changed for small businesses that needed commercial retail space. Suddenly, you were treated to the Starbucks Standard. Starbucks seemed to have the ability to pay any price for any space they wanted. They drove out competitors by outbidding them, and they drove up the rent for all businesses in a center. In addition, some landlords did not want anything to do with small independent businesses. Starbucks, Noah's Bagels, Papyrus, Quiznos, they were desirable, and single location family businesses were outcasts.
Rents went up, especially in high-traffic, downtown locations. Businesses that wanted to be where the action was had to pony up. Now Starbucks is walking away from 900 stores, and downtowns are seeing merchants closing up at rates approaching 50%. Those high rates that were barely affordable when times were good are pulling stores down in these hard times.
The market corrects itself, but that doesn't mean no-one gets hurt. Small business is often a shoestring endeavor, and fast companies like Starbucks can make life hard in ways that might not be apparent. Their loss might be a community gain.
To sum up, click here to learn more about the
350 project
, everyone benefits when we support local businesses!